EP-LP Anhydrous Lanolin pharma grade
| | |
| --- | --- |
| CAS-Nummer | 8006-54-0 |
| Einecs-Nummer | 232-348-6 |
| INCI-Bezeichnung | Lanolin |
| International nonpropietary name (INN) | – |
Crude wool fat is the serum secretion of sheep. The wool fat is separated during the wool washing process and purified and bleached in a complicated process. The crude wool fat is first washed with acid, then the free fatty acids are removed with alkali. The pesticides contained in the raw wool fat are largely removed by a combination of molecular distillation, filtration with activated carbon and optionally washing with aqueous alcohol. This also results in a deodorizing and bleaching of the lanolin. Any existing peroxides are also removed during refining.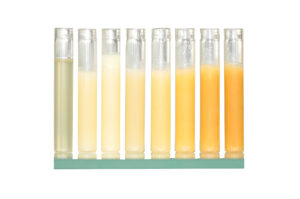 Lanolin consists of a complex mixture of long-chain esters of mono, di- and hydroxy esters. During the ester cleavage, more than 60 different alcohols, especially sterols (cholesterol), were found approx. 25% with chain lengths of C14 to C36 and more than 100 different fatty acids with chain lengths of C8 to C41. Lanolin also contains up to 12% of long-chain free alcohols. The content of free fatty acid is limited by the treatment of the lanolin to 0.5% for pharmaceutical wool wax.
Water-free lanolin – Lanolin Anhydrous or Adeps Lanae Anhydricus is a light yellow, soft, waxy mass with a weak, characteristic odor. Lanolin anhydrous has a melting point of approx. 40 ° C. Although lanolin is insoluble in water, it can absorb more than twice its own weight of water. This results in a nearly transparent water-in-oil emulsion. The ability to form emulsions is based on the content of free alcohols and cholesterol esters.
Lanolin penetrates very well through the skin. It can regulate the water balance of the skin and has excellent skin care characteristics. Lanolin supports wound healing and is therefore widely used in skin care creams and salves, baby care and ointment. Lanolin is a valuable ingredient especially in lip care and lipsticks. Here also the liquid lanolin is outstanding because to the high refractive index it improves the gloss and also reduces unwanted crystallization.
The co-emulsifying action of lanolin is particularly remarkable in the formulation of W / O creams. As a skin caring component, lanolin is also very suitable for use in soaps. Lanolin acts as a caring component in hair growths and conditioners.
Lanolin is therefore an extremely versatile natural raw material for cosmetics.